JANUARY NEWSLETTER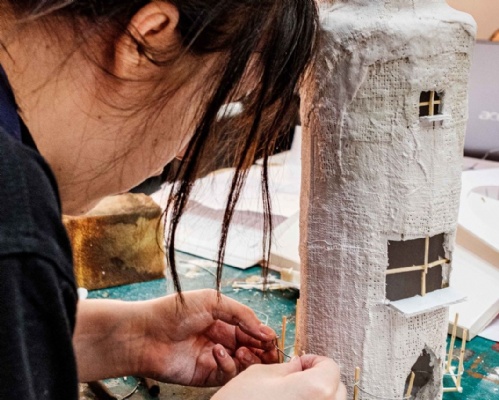 Happy New Year, and welcome to our first newsletter of 2022. After a hugely successful four-week run of Alice in Classrooms and studios working in projects in their pathway groups.

We are currently enjoying the excellent facilities at BOA CDPA and Millennium Point, but also look forward to moving into our very own building in 2022. This will provide students with state-of-the-art facilities and some superbly spacious work areas. We will keep you informed on progress as 'moving day' approaches.
Our open evenings take place on 16th and 17th February 6-8pm. If you know any current year 11 students with a passion and aptitude for the creative industries, please encourage them to visit our website and to attend one of our evenings.
Personal Development Curriculum
Friday 28th January 2022, students took part in our teemed dat as part of our Personal Development Curriculum. The day focused on how we can create an inclusive environment in which we celebrate peoples' differences. It was inspirational listening to one of our guest speakers talk openly about their lived experiences, building empathy amongst our students and getting them to reflect in the impact of language and actions.
On Friday 11th March 2022, in conjunction with National Careers Week, students will celebrate the wider world of work. The day will offer careers guidance and support for students to make effective choices about University, apprenticeships or employment. The day will not only offer job inspiration but cover skills for work, CV writing and interviews.
Our Students Are Our Best Ambassadors
This term has sent the launch of our student ambassadors who play a key role in stunted life and representing the Academy. This will support the development of active learners and strong character to help students succeed, thrive and contribute positively to Academy life.
Covid 19 Update
Under the latest guidelines (27th January onwards), face coverings are no longer recommended in classrooms or communal areas. The latest guidance regarding self-isolation is as follows:
'People who are self-isolating with COVID-19 have the option to reduce their isolation period after 5 full days if they test negative with and LFD test on both day 5 and day 6 and they do not have a temperature. For example, if they text negative on the morning of day 5 and the morning of day 6, they ca return to their education or childcare setting immediately on day 6'.
Important Days
BOA Stage and Screen production Open Evenings take place in 16th and 17th February. In the week after half-term break (28th February to 4th March), Stage and Screen production students will be working mainly at home on independent study tasks, while exams and aptitude tests take place in the BOA building.
Creative Production Showcase.
On 20th January, we opened our doors for Year 12 Stage and Screen Creative Production students to showcase their latest project design work based on the popular Netflix series The Witcher. Our studiers showed off some fabulous creative work based around costumes, make-up, wigs and set models. In addition there was some highly professional lighting, sound and special effects work on show.
With best wishes from the team at BOA Stage & Screen Production Academy.
Iain Estell
Interim Principal