DECEMBER NEWSLETTER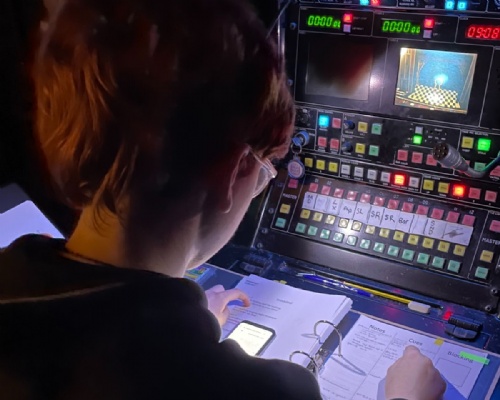 Welcome to our final newsletter of 2021. We are delighted that students have settled into their studies at the Academy so well, and can look back on a successful first term.
We look forward to moving into out state-of-the-art new building in 2022. On a recent tour of the site we were able to see things really progressing, with fixtures and fittings beginning to be installed in many classrooms and workshops.
Stage and Screen production students have done a superb job building sets, creating props, operating sound and lighting, stage managing and creating films for the BOA group production of Alice in Wonderland. As a hugely successful four week run comes to an end, we can reflect on the amazing achievement of our students who, after all, only joined is in September!
Personal Development Curriculum
On Wednesday 1st December 2021, students took part in our second successful themed day as part of our Personal development Curriculum. The day covered workshops around healthy relationships and positive sexual health. Student feedback was very positive and they clearly learned so much. 100% Of our students felt that it was relevant to their age.
On Friday 28th January 2022, in conjunction with LQBT History Month in February, students will tale part in a variety of workshops featuring expert visiting speakers. The day will focus n how we create inclusive environments which allow is to be ourselves, covering history, rights and laws, terminology and the impact of language and actions.
Progress Cards
You will have received an end-of-term grade card outlining your chia's effort and progress. This is an important early indication of how hard they are working, and whether they are making expected progress. A parent evening takes place in March, when form tutors and pathway teachers will give a further detailed progress report.
New Website
Please use our new website at: www.boa-stageandscreen.co.uk. This is the place to keep up with academy news and upcoming events.
Important dates:
Next term starts for students on Wednesday 5th January BOA Stage and Screen Production Open Evenings take place 16th and 17th February.
Creative Production Showcase
On 20th January 6-8pm, the year 12 Stage and Screen Creative Production Students will be showcasing their latest project design work based on the popular Netflix series - The Witcher. They are currently working in individual projects designing and making set models, costumes, wigs and make-up as well as exploring and creating technical and digital landscape to work alongside these.
The students will showcase their work in BOA theatre, alongside some live demonstrations with hair and make-up, lights sound and AV. Further details about booking tickets will be sent in January.
With best wishes for a Merry Christmas and Happy New year from the team at BOA Stage & Screen Production Academy
Iain Estell
Interim Principal