OCTOBER NEWSLETTER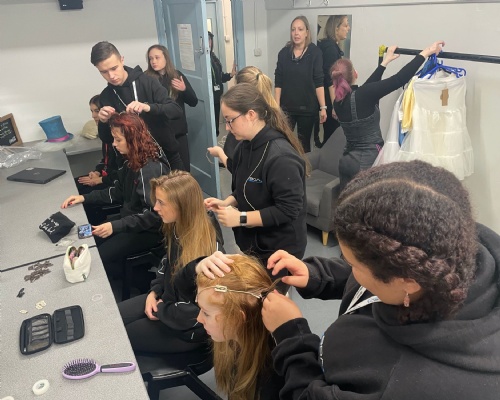 Welcome to the first of a series of newsletters designed to keep parents and carers informed about developments at the Academy.
The new school year has got off to an exciting start with students making new friends, meeting staff, participating in taster workshops and visiting Midlands Arts Centre, PRG, Thorpe Park and Harry Potter Studios. Students now have their timetables and are working on a range of projects including Acting, Lighting, Stage Management and Props, Set Construction and Broadcast which are taking place at BOA, the Birmingham Rep Theatre and PRG.
We understand that many of our students travel considerable distances to come to the Academy and we are keen to ensure that all students attend on time unless there is a valid reason not to do so. Please help us to get this important message across. In addition, I would like to thank everyone who has contacted me to let me know that the uniform suppliers are struggling to meet demand. Due to Brexit and COVID-19, stock levels of uniform for many schools are extremely depleted and suppliers are unable to guarantee when stock will be arriving. I would like to reassure you that we are doing everything we can to support you and ask that your child's uniform is ordered. Whilst students are awaiting uniform to be delivered, they should wear a suitable plain black t-shirt or jumper.
What do I do if my child is late or going to be absent?
Call 0121 359 9300
What should I do if my child or a family member has symptoms of Covid?
Pupils, staff and other adults should follow public health advice on when to self-isolate and what to do. They should not come into school if they have symptoms and have had a positive test result. If you child is going to be absent from school due to positive Covid result, we would ask that you follow the normal absence procedures.
How can I make contact with the Principal?
E mail: Principal@boa-stageandscreen.co.uk or call 0121 359 9300
When can I come and meet my child's tutor and other staff?
There will be a Settling-In Evening on 4th November, 7pm at BOA Creative, Digital & Performing Arts Academy (1 Grosvenor Street, B4 7QD). Further information will be sent out later in the month.
With best wishes from myself and the team at BOA Stage & Screen Production Academy,
Dr Steve Ball,
Principal