NOVEMBER NEWSLETTER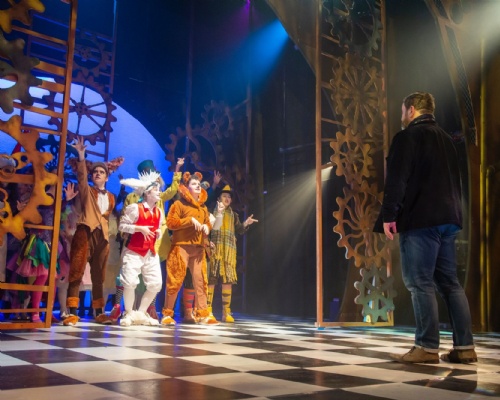 Welcome to our second newsletter designed to keep parents and carers informed about developments at the Academy.
It's an exciting time, with our students working hard on their Pathway projects in the areas of Acting, Lighting, Stage Management and Props, Set Construction and Broadcast. Much of the work is in preparation for the major BOA production of Alice In Wonderland which takes place from 20th November to 17th December at The Old Rep Theatre. This is an early opportunity for you to see what students have achieved since September so do please book your tickets by visiting www.oldreptheatre.co.uk or calling 0121 359 9444.
Settling In
It was lovely to meet parents/carers at our recent Settling-In Evening on Thursday 4th November. We hope you found this a useful opportunity to meet your child's form tutor and to get a snapshot of your child's progress so far. A further parent evening takes place in March when form tutors and pathway teachers all give a detailed progress report.
At the end of this term (17th December), you will receive a grade card outlining your child's effort and progress.
Special Recognition
We're delighted with the work of all our students in preparation for Alice In Wonderland. But some deserve a special mention for really going the extra mile, giving up their time and showing exceptional commitment. An extra special 'Thank You' goes to Harry, Mollie, Abigail, Stanley and Callum for their tireless efforts.
Personal Development Curriculum
Our PDT time comprises much more than just PSHE themes. It's underpinned by a range of other educational opportunities and frameworks, which give students a platform to demonstrate and develop important life and employability skills. This is delivered throughout our curriculum as well as in assemblies, tutor time and themed days to support and equip our students with current issues they may face in the wider world, to enable them to make informed choice and opinion, whilst developing their moral compass.
On Friday 9th October, in conjunction with World Mental Health Day, students took part in workshops delivered by Kooth, Birmingham Mind, Pause and Yoga, gaining knowledge of their 'emotional toolbox' and strategies to support well-being.
On Wednesday 1st December 2021, in conjunction with World Aids Day, students will take part in a variety of workshops, featuring expert visiting speakers to raise awareness of healthy relationships.
Social Media
We have recently appointed a group of student social media ambassadors who will be helping to promote BOA Stage & Screen Production Academy on social media platforms. Look out for regular posts on our Facebook, Instagram and TikTok platforms - it's a great way for you to keep up with the fantastic work of our students.
With best wishes from the team at BOA Stage & Screen Production Academy.
Iain Estell
Interim Principal